The 2023 Subaru Love Promise Customer and Community Commitment Award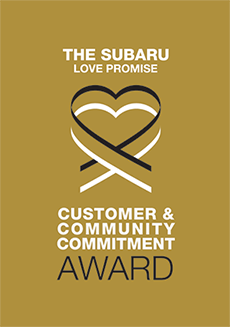 We've been nationally recognized for our dedication to our customers, our community, and the Subaru Love Promise.
We're honored to receive the 2023 Subaru Love Promise Customer and Community Commitment Award. This award nationally recognizes elite Subaru retailers who provide an exceptional customer experience at every interaction with Subaru. These retailers have also demonstrated an outstanding commitment to supporting passions and causes in their local communities in important areas such as the environment, community, health, education, and pets.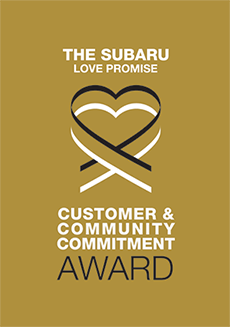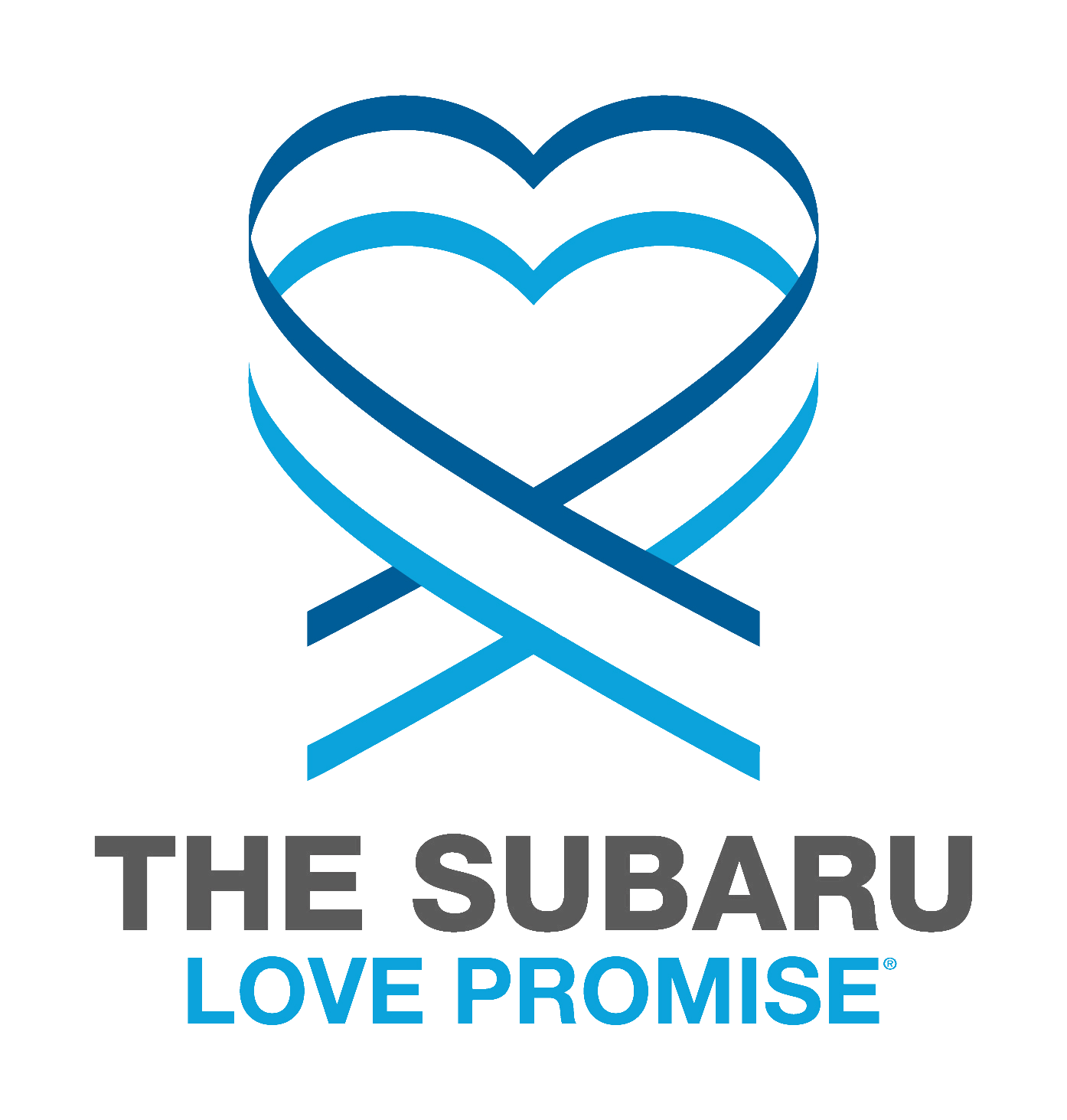 What is the Subaru Love Promise?
Subaru and our retailers believe in making the world a better place and the Subaru Love Promise is our vision of respecting all people. This is our commitment to show love and respect to our customers and to work to make a positive impact in the world.
How is Subaru Concord dedicated locally to the Love Promise?
Our Love Promise can be seen in various partnerships with local charities and non-profits. We're grateful for the opportunity, not only to be a part of our community, but to serve it as well.
Humane Society of Concord and Greater Cabarrus County, Stanly County Animal Protective Services, Catering to Cats and Dogs, Cabarrus County Animal Shelter, Tails of the Unwanted Animal Rescue
Charlotte Wildlife Stewards, Just Water 4 Haiti, TerraCycle
Carl A Furr Elementary School, Shady Brook Elementary School, AT Allen Elementary School, Winecoff Elementary School, R Brown McAllister STEM Elementary, Concord Middle School
Cabarrus Meals on Wheels, Concord Downtown Development Corp, Salvation Army Center of Hope, Cabarrus Chamber Advocacy and Workforce Development
Partners 4 New Hope, Inc, The Leukemia & Lymphoma Society, NC Chapter, OneBlood, BeTheMatch.org
Love Promise Stories from Subaru Concord
Subaru and Subaru Concord believe in making a positive impact on the communities in which we live and work. We uphold that belief through our Love Promise Community Commitment. Every month, we select inspiring stories from customers and partners from around our area who strive to support our collective commitment and feature them here
Blood Donors are Every Day Heroes! - Amanda D
Every two months, Subaru Concord invites team members, customers and the community to get on the Big Red Bus and save lives! We are thankful for the donors who consistently donate whenever the OneBlood bloodmobile is at Subaru and April 18th was no different. Brian M. who owns a Subaru BRZ, has been donating at Subaru drives for two years! He has potentially saved over 20 lives with his consistent donations. Steve Porter, General Manager, donates at every drive that he is eligible for. He usually donates double red cells. When donating this way, eligibility dates stretch from 56 days to 112 days because the automated technology allows donors to give twice the amount of their red cells than compared to a whole blood donation. Only the most needed component(s) of the donor's blood are collected in the process, known as apheresis. It is estimated that one of every three people will need a blood transfusion at some point in their lifetime: Blood cancer patients, heart patients and transplant patients, as well as those with anemia, all need blood products. A car accident victim may need as many as 100 units of blood to recover. In addition to OneBlood gifts, such as gift cards and T-shirts, Subaru Concord offers every successful donor a $35 Subaru gift certificate to encourage life-saving donations. Subaru Concord has offered this gift to more than 300 donors since 2019, investing over $10,000 in this effort to save lives.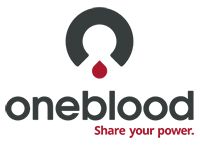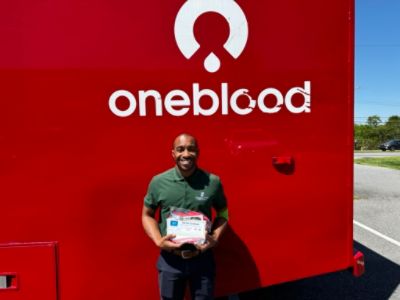 ---
Sharing the Love in support of Meals on Wheels - Kimberly S
Subaru of America, Inc. and Subaru Concord presented a check for $43,114 to Cabarrus Meals on Wheels today, a local beneficiary in the 2022 Subaru Share the Love® Event. In its 15th year, Subaru's signature philanthropic event has donated over $256 Million to more than 1,700 charity partners nationwide. Through the 2022 Subaru Share the Love Event the automaker and its retailers donated a combined $29.1 million to charities, with $20.7 million donated by Subaru of America and $8.4 million donated by Subaru retailers. From mid-November through the end of the calendar year, with every new Subaru purchased or leased, Subaru donated $250 to each customer's choice of charities*. For 2022, SOA selected the four national charities: ASPCA®, Make-A-Wish®, Meals on Wheels America and National Park Foundation. Subaru retailers could also elect to add a local charity and Subaru Concord selected Cabarrus Meals on Wheels its hometown charity and matched SOA's contribution for each new car sold during the event. The check for $43,114 was presented to Cabarrus Meals on Wheels by Bill Musgrave, Gary Porter, Steve Porter and Whitney Marti, all of Subaru Concord. Accepting the check on behalf of Cabarrus Meals on Wheels was Kimberly Strong, Executive Director. "The partnership that Cabarrus Meals on Wheels has with Subaru Concord has been phenomenal. Not only do they deliver for us, but they also, as you can see, give us all this wonderful funding from the Subaru Share the Love Event." said Kimberly Strong, Executive Director of Cabarrus Meals on Wheels. "These funds will help us feed over 45 people this year. It takes about $1,000 to feed one client for one year. We could not do this without them, so we really appreciate it." This is the ninth year that Subaru Concord selected this organization as its Hometown Charity partner. Over the nine years, they have received over $192,000 from the Subaru Share the Love Event.

---
Providing Comfort and Warmth to Those Experiencing Homelessness. - Whitney M
Helping others is the key to building a strong community. There are communities of opportunity in cities and towns where we all live and work. The Subaru Loves to Help® initiative is about supporting those who need it most in our communities. Warm socks are one of the most requested items at the Salvation Army's Center of Hope. Socks are critical in providing comfort and maintaining the health of those who are experiencing homelessness. Sock Delivery to the Salvation Army's Center of Hope provides warmth and hope to people experiencing homelessness. Subaru Concord is donating 500 pairs of socks to be distributed to people being served by the Center of Hope. Nationwide, this initiative has resulted in the donation of 100,000 water-resistant blankets and over 500,000 pairs of socks. Retailers Bill Musgrave, Wanda Musgrave who have provided many years of support to the Salvation Army by serving on the board and supporting the Boys & Girls Clubs, shared their thoughts on the importance and impact of the Subaru Loves to Help initiative. Steve Porter, General Manager and Whitney Marti, Customer & Community Liaison participated in the delivery again for the third year in a row. Representing the Center of Hope were Lieutenant Devin Sassano and Lieutenant Lara Sassano and Joe LaSalle who manages the overnight shelter. Lt. Lara Sassano shared: "We just want to thank Subaru Concord for providing this much needed donation for families in need that come through our shelter or our programs throughout the day – so thank you so much!" This is the third year that Subaru Concord has delivered warmth to the Concord shelter. "People don't think about how such a small item can make such a huge impact on someone's health and livelihood", said Bill Musgrave. A community coming together to serve families experiencing homelessness is truly inspiring. We would ask you to consider providing your support. The Concord Salvation Army Center of Hope serves Cabarrus and Stanly counties and is the only overnight emergency shelter in Concord. Items always needed by the shelter include cleaning and laundry supplies – detergent, dryer sheets, fabric softener, dishwashing detergent and large trash bags (55 gallon).
---
Subaru Loves Learning® - Carl A Furr Elementary Impact - Whitney M
It is always a great day when we get to visit with the staff and/or students of Carl A Furr Elementary School in Concord. The staff is an amazing group of educators and support personnel whose love of children shows through in all they do. Last fall, Subaru Concord provided flexible funding and classroom supplies as part of the Subaru Loves Learning Initiative. This year, we received the following letters and images on how the support was used to improve their students' experiences: "Thank you so much for your wonderful donation. I am planning on using this money to buy literacy items for all seven of our Kindergarten classrooms. Our kids are just beginning to learn how to read and these materials will be a great addition to the curriculum we will be using. We are excited to get them and use them with all of our students very soon." - Amy D. "Thank you for your donation!! The funds will serve to provide students with instructional resources that they will not normally have access to." - Brittany B. "Thank you so much for your donations! We will use your donation to get materials for fourth graders! These materials will support student learning, growing, and fun!" - Carrie H. Thank you so much for donating to my classroom! Our school is a Title One school with a diverse population. I love watching my second graders bond with others whose backgrounds are different from their own. I am planning to use your donation to get some science supplies to enhance our curriculum with more hands-on activities. Any kind of experiment is so much fun for the kids! I will consult with our Lead Teacher, administration, and other second grade teachers (there are nine of us this year) to determine what will be the best use for your wonderful, generous donation!" - Earle A. "We are so very thankful to you for having such a giving heart to share. We are blessed to be supported by our community to help provide some of the necessities that our students need." -Carrie S. "Thank you so much for supporting our students in our Title 1 school. We cannot wait to purchase extra classroom materials and resources that will greatly benefit all of our students. We appreciate your support of our students at our Title 1 school where many of our students do not have the chance for the same opportunities and experiences as students from other schools".- Erin K. We are very appreciative of the support that Subaru is providing to Furr Elementary. This will allow us to purchase classroom supplies that will result in a positive impact on our students. - Darin Roberts, Principal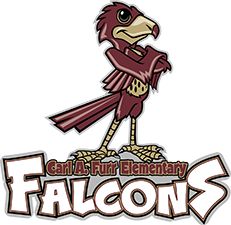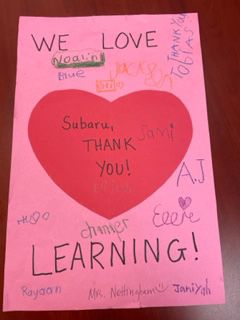 ---
Subaru Loves to Help - Delivering More Than Meals - Whitney M
Cabarrus Meals on Wheels provides nutrition, a friendly face and a wellness check every day, Monday through Friday, to seniors in Cabarrus county. Many of the meal recipients are on fixed incomes and may be living in poverty. In addition to hot meals, Cabarrus Meals on Wheels (CMOW) also collects donated items like pet food and basic supplies. Subaru Concord asked CMOW what they could do to help over the holidays and into the new year. They learned that SNAP (Supplemental Nutrition Assistance Program) does not cover paper products, such as toilet paper and paper towels. There was a need for these items to be donated for distribution with meals to those clients with the greatest needs and least amount of income. Subaru Concord's team sprang into action: Shopping for these products to donate for delivery with meals in late January / early February. Just as important was an opportunity to jumpstart conversations about the number of people experiencing poverty in the county. The purchased supplies were formed into a Christmas tree – complete with garland, a tree topper and 'ornaments' that team members and guests could write a note on. The team gathered around to 'construct' and decorate the 'tree' in the showroom. When it was time to dismantle the tree for delivery in January, the team gathered around and had fun loading a Subaru Ascent – completely filling it up from front to back, floorboards to roofline. Volunteers in separate vehicles followed the very full Ascent as it travelled to the meals on wheels operation. Once again, teamwork had the Ascent's cargo unloaded onto carts without delay. Kimberly Strong, Executive Director of Cabarrus Meals on Wheels, shared with the Subaru team how thankful they are for the product donations and reiterated that SNAP benefits do not provide for these essential items and how meal recipients may have to choose between them and food. Subaru of America and Subaru Concord have provided over $150,000 in support to this partner through the Subaru Share the Love Event from 2014 through 2022. Since 2011, the Subaru Concord team has regularly delivered meals. Additionally, Subaru team members have created cards for the meals on wheels recipients to brighten their day and let them know someone is thinking of them and hosted pet food and canned good drives in the retail facility. Subaru truly does "Love to Help"
---
Engine Donation Leads to Career Discussions - Whitney M
With a nationwide focus on technician shortages now and into the future, when an engine became available as a result of an engine replacement, Subaru of America was kind enough to allow Subaru Concord to donate the engine to our local high school's Career and Technical Education program rather than send it to a scrapyard. Mr. Murray, CTE Instructor for Automotive Service Fundamentals, & Auto Service I, II and Dr. Pendergrass, CTE Career Development Coordinator (CDC), Work-Based Learning Coordinator, & Academy Coordinator for Jay M Robinson High School greeted the Subaru team and Mr. Murray accepted the engine for his automotive classes. Mr. Murray shared that "With this, we'll have the opportunity to have our students see something outside of an American-made, domestic vehicle. We are also going to see what it looks like to have an engine complete. All the engines we have here currently are stripped down, no accessories on them, so when they take them apart they are not getting that hands on experience like they would working on something with everything included unless they are actually working on a car, which makes it much more difficult to teach that first time." When the visit was arranged, Subaru Concord wanted to do more than just deliver the engine and arranged to speak to two of the automotive CTE classes about career opportunities in automotive. Matt Seiler, District Parts and Service Manager, Subaru of America, gladly joined the Subaru Concord team to share his career experiences and great information on Subaru University. Steve Porter, General Manager, Jeremie Robison, Service Manager and Gavin McCulloh, Service Technician rounded out the presenters. Whitney Marti spent time with Dr. Pendergrass on becoming a partner to the CTE program and gathered information on insurance and program requirements. Subaru Concord had just signed on to develop partnerships through a program developed through the local new car dealers' association that is designed to provide internships to high school and college students, as well as a Technician competition that supports partnerships and education between high schools and automotive retail facilities. Subaru Concord has been invited back to a career fair in April to encourage Jay M Robinson students to consider the many careers that exist in the automotive field.
---
Subaru Concord Builds a Paper Tree - Kimberly S
Subaru Concord is an integral partner with our organization, Cabarrus Meals on Wheels. Each year, we are their Hometown Charity during the Subaru Share the Love® Event. This past event they helped our clients even more with a paper products drive. The employees "built" us a paper tree made with toilet tissue and paper towels. These are items that our clients need but don't always have the extra funds to purchase. As we delivered these items to our clients, we had several tell us that they were a blessing. One woman told us she desperately needed toilet tissue, but did not have the money to purchase it. She was extremely grateful for the help. Subaru Concord also delivers meals for our program. At this time, we struggle with volunteer manpower so the partnership with Subaru Concord is a blessing to us! We could not ask for a better partner in our community than Subaru Concord!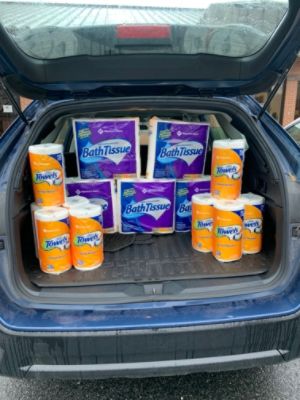 ---
Blood Donors are Modern-Day Superheroes - Amanda D
The reason to donate is simple…it helps save lives. In fact, every two seconds of every day, someone needs blood. Since blood cannot be manufactured outside the body and has a limited shelf life, the supply must constantly be replenished by generous blood donors. Blood donors play a vital role in the healthcare of patients in our community. 37% of the population is eligible to donate blood, yet only 5% actually do. The number one reason given by donors is that they want to help others. There are many reasons patients need blood. A common misunderstanding about blood usage is that accident victims are the patients who use the most blood. Actually, people needing the most blood include those: • Being treated for cancer • Undergoing orthopedic surgeries • Undergoing cardiovascular surgeries • Being treated for inherited blood disorders We are thankful that Subaru owners and Subaru Concord team members continue to answer the call to provide life-saving blood donations! In 2022, Subaru Concord scheduled 6 blood drives – as close to the 56 day waiting period as possible for donors who like to give as often as they are eligible to do so. Thank you gifts for successful donors throughout the year included a $20 eGift Card, an insulated tumbler, blanket, beach towel or t-shirt from OneBlood. Subaru Concord generously provided a $35 Subaru Concord gift certificate that could be used toward any Subaru purchase whether service maintenance, repairs, accessories, parts or even toward a new car. Additionally, donors who give multiple times a year can earn 'challenge gifts' in the form of e-gift cards from OneBlood. Amounts start at $20 and increase with each additional donation. Subaru Concord exceeded their 'double red' units collected the previous year by February and collected 85 total units for the year. A "double red" cell donation allows you to give twice the amount of red cells than a whole blood donation. Red blood cells are the most used blood component for surgery, trauma and treatment of blood disorders. Sadly, due to staffing shortages, our final drive scheduled for December had to be cancelled at the last minute. We sprang into action: Wanting to do their part to replenish the blood supplies, reward the Heroes who participate and make it convenient for team members and customers to donate, Subaru Customer Liaison, Whitney Marti, reached out and asked for help in contacting the donors who had reserved appointments for the cancelled drive. Call and text messages were sent to let people know that if they would still give that day, at the blood center located just a few miles away, they would still receive the Subaru Concord gift certificate thereby making sure they received all of the same rewards just as if the drive took place on Subaru property. This was the right thing to do – Staffing shortages do not mitigate the need for blood and blood products. We appreciate this gesture as it is not one I have seen before! If you have read this far and are able, please donate at a drive near you or even more impactful – reach out to OneBlood and arrange to host blood drives with your business, organization, neighborhood, club or school – we need heroes like you! (Data compiled by and sourced from OneBlood.org)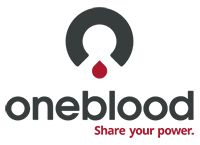 ---
Concord Christmas Parade - Whitney M
The Concord Christmas Parade a long-standing 94-year old tradition in our community. When the availability of a sponsorship that would recognize bands, schools, churches and civic organizations' floats came up, we wanted to help! Last year, the parade was structured differently and we offered support to a float dedicated to first responders. That option was not available this year, but we were pleased to support the awards and recognition for these wonderful community groups! From the City of Concord: "Thanks to our generous sponsor, Subaru Concord, prizes will be awarded to the top three entries across four categories: band, church, civic organization, school." Prizes will be awarded as follows: School Bands: 1st Place $1,000; 2nd Place $500; 3rd Place $250. Church Floats: 1st Place $250; 2nd Place $150; 3rd Place $100. Civic Organization: 1st Place $250; 2nd Place $150; 3rd Place $100 School Representation: 1st Place $250; 2nd Place $150; 3rd Place $100.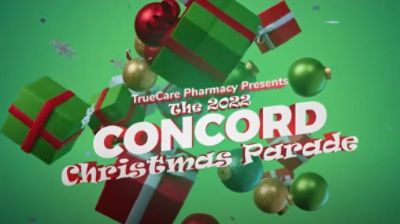 ---
Layka's Journey - Judy S
Layka, a 2 year old American Bulldog, was tearfully surrendered to us when her owners lost their business and then their home. At first, Layka was apprehensive in her surroundings and didn't want to let anyone near her. After some coaxing, and sheer determination by our staff, Layka began to trust us. As it turned out, Layka tested positive for heartworms, was unaltered and had a torn ACL. While we weren't quite sure where to start with promoting her, we began to share her photos at our offsite Subaru Share the Love events and asked people to tell everyone they knew about her. Layka quickly became a shelter favorite winning the hearts of many of our volunteers. Layka quickly caught the attention of one of our faithful donors who said that she and her co-worker had been watching Layka and that her co-worker wanted to become her foster. Upon meeting her, Brenda fell in love and made plans to come back in a few days and get Layka. Brenda fostered Layka through her spay and then heartworm treatment. At the completion of he treatment, Brenda decided that she couldn't imagine her life without Layka and she came in to make the adoption and was given a Bark Box as a homecoming gift. Layka is today living her best life and we know that, without the partnership of amazing companies like Subaru, we could not be nearly as successful in our adoption endeavors.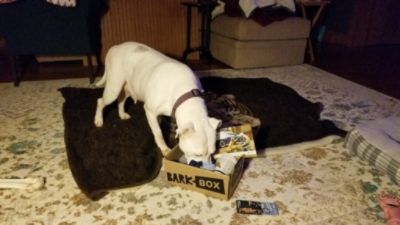 ---