The 2022 Subaru Love Promise Customer and Community Commitment Award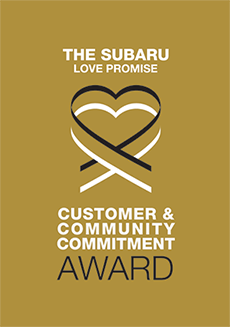 We've been nationally recognized for our dedication to our customers, our community, and the Subaru Love Promise.
We're honored to receive the 2022 Subaru Love Promise Customer and Community Commitment Award. This award nationally recognizes elite Subaru retailers who provide an exceptional customer experience at every interaction with Subaru. These retailers have also demonstrated an outstanding commitment to supporting passions and causes in their local communities in important areas such as the environment, community, health, education, and pets.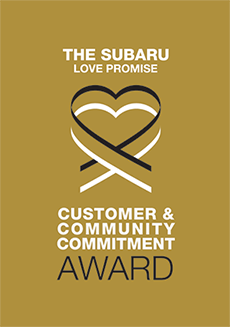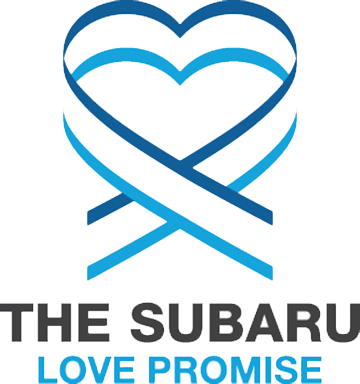 What is the Subaru Love Promise?
Subaru and our retailers believe in making the world a better place and the Subaru Love Promise is our vision of respecting all people. This is our commitment to show love and respect to our customers and to work to make a positive impact in the world.
How is Subaru Concord dedicated locally to the Love Promise?
Our Love Promise can be seen in various partnerships with local charities and non-profits. We're grateful for the opportunity, not only to be a part of our community, but to serve it as well.
Humane Society of Concord and Greater Cabarrus County, Stanly County Animal Protective Services, Catering to Cats and Dogs, Cabarrus County Animal Shelter
Charlotte Wildlife Stewards, Just Water 4 Haiti, TerraCycle
Carl A Furr Elementary School, Shady Brook Elementary School, AT Allen Elementary School, Winecoff Elementary School, R Brown McAllister STEM Elementary
Cabarrus Meals on Wheels, Concord Downtown Development Corp, Salvation Army Center of Hope
Partners 4 New Hope, Inc, The Leukemia & Lymphoma Society, NC Chapter, OneBlood, BeTheMatch.org
Love Promise Stories from Subaru Concord
Subaru and Subaru Concord believe in making a positive impact on the communities in which we live and work. We uphold that belief through our Love Promise Community Commitment. Every month, we select inspiring stories from customers and partners from around our area who strive to support our collective commitment and feature them here
Subaru Concord Loves Learning - Whitney M
At Carl A Furr Elementary School's first staff meeting of the year, Steve Porter, General Manager and Whitney Marti, Community Liaison, were invited to kick-off the meeting celebrating the teachers receiving AdoptAClassroom.org flexible spending gift cards. Six teachers, selected by the school's administrators, were gifted $500 each to spend on equipping their classrooms. The six teachers also received a box of school supplies for their classrooms. On average, teachers spend $500 or more out of their own pockets providing supplies for their classrooms to ensure students are not just prepared, but thriving! Subaru Concord brought a selection of granola bars and other snacks for the teachers and staff to enjoy over the next few days. To show gratitude to the teachers and staff of Carl A Furr Elementary, a school bus-shaped sign was placed in Subaru Concord's showroom for the month of August. Visitors placed messages of thanks on the bus graphic and the bus was delivered to the school with the supplies.
---
Subaru Concord Delivers Warmth and Hope - Whitney M
Of all of the Subaru Love Promise national activations, delivering warmth and hope to our community is the one that touches our hearts the most. The Message of Hope cards gathered from the team and our guests throughout June, are our absolute favorite part of this partnership. We were able to collect 90 messages to deliver with the soft, warm blankets. We truly missed being able to interact with patients receiving infusions at our local cancer treatment center, fully understanding that any contact could compromise their health. We were met by our Leukemia & Lymphoma Society (LLS) coordinator at Subaru Concord to load a Subaru Ascent and took some photos of the team with the blankets, arts and crafts kits and message of hope cards. In addition to these items, Subaru Concord put together baskets of treats for the staff and crayons for the young patients to complement the arts and crafts kits. Bill and Wanda Musgrave, Steve Porter and Whitney Marti, all of Subaru Concord then accompanied the LLS coordinator to Atrium Health's Levine Cancer Institute in Concord to complete the delivery. We were pleasantly surprised to find that our contact at the Cancer Center is an enthusiastic Subaru owner who loves her Subaru Ascent! She was overjoyed to receive blankets again this year to share with her patients!

---
Subaru Loves to Help - Veterans - Whitney M
Last year, we participated in an advertising campaign, "Salute the Troops", featuring the Subaru Military Program. When approached this year to run the campaign again, our Customer and Community Liaison asked us to reconsider the message and goal. We got together as a team and decided to reimagine "Salute the Troops" to align with our Subaru Love Promise, specifically 'Subaru Loves to Help' with a focus on Military Veterans. The only thing left intact from 2021 was the background video portion of the 15 second spot. The message, including on screen graphics and the audio, was edited to focus on a donation-per-vehicle-sold message from Subaru. The idea was born, but who would best serve Veterans in our communities? Through research and networking, an organization came to our attention with a stellar reputation and a proven, multi-faceted approach to serving Veterans and their families: Veterans Bridge Home. Every vehicle delivered from Memorial Day, May 30th through Independence Day, July 4th resulted in a $50 donation to Veterans Bridge Home. We wanted our guests to know that they were contributing through their purchase and just maybe connect a Veteran in need through publicizing the campaign in the facility: Cards were produced for each buyer, thanking them for their purchase and acknowledging their support in making the donation to support Veterans and their families possible. True partnerships are multi-faceted: More than just making a donation, we choose to invest the time to amplify the message of our non-profit partner, helping them reach a wider audience and connect with those in our community who can offer additional support, whether through monetary donations or manpower hours, or possibly need the services they offer. "The donation was amazing, but the awareness from the cards you gave everyone were extremely helpful to our organization…we spend no money on marketing so this boost is very helpful for people to know we exist," stated Steven Cole, Vice President of Advancement, Veterans Bridge Home. We love that their mission encompasses treating the whole person and not just one facet of Veterans' needs as the men and women who serve transition to civilian life. The owners and staff of Subaru Concord and Subaru South Blvd presented a check to Veterans Bridge Home in the amount of $11,950. "This generous donation from Subaru will help connect more than 45 veteran families with the human services and career opportunities they need to thrive in their communities after military service," shared Gina Brundick, Development Associate, Veterans Bridge Home. Veterans Bridge Home has already shared the donation with their followers on social media and we will invite them to link to this story on our Love Promise page. We have already begun to regularly share their social content as we do with other groups to whom we offer monetary or manpower support throughout the year. Learn more about Veterans Bridge Home at https://veteransbridgehome.org/

---
Warmth to Cancer Patients - Subaru & LLS - Bethy V
On July 12th, the Charlotte LLS and Subaru Concord teams had the pleasure to deliver 80 blankets to the Levine Cancer Institute - Concord. These cozy gifts were accompanied by messages of hope to patients receiving treatment at the hospital. With Whitney, Bill, Wanda, and their team we met with the staff and they were excited to be able to provide the blankets to the patients. Whitney said, "We hope this can provide a little bit a warm and coziness for them during their trying treatment." Many, many thanks to everyone at Subaru Concord and Levine Cancer Institute, not only for a hopeful day, but for supporting LLS's mission to cure blood cancer and improve the quality of life for patients and their families.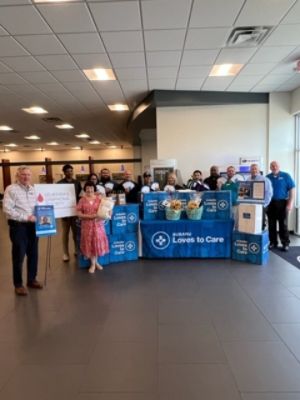 ---
Bark in the Park is Hot! - Whitney M
Our 4th Bark in the Park event took place on a day battling for a place in the heat index record book. Thankfully, a front moved in that cooled the air temperatures slightly and the storms went around the Atrium Health Ballpark. The Kannapolis Cannon Ballers also hosted a PRIDE celebration in addition to Bark in the Park the festivities. Ticket sales were higher than normal for a Wednesday night game. Unfortunately, the threat of severe weather kept some ticketholders away from the event. The Cabarrus County Animal Shelter's Manager attended and checked microchips for attendees' pets, sending the pet owner home with the necessary information to ensure that the database would have their most current information. A number of dogs in our community were separated from their owners during 4th of July celebrations earlier in the week, so it was great timing to reinforce having pets microchipped and checking that the chip remains active and up to date, as well. The Humane Society of Concord and Greater Cabarrus County brought puppies, along with 5 other adoptable dogs from the shelter. Catering to Cats and Dogs arrived with 4 dogs also looking for their forever homes. As with every game, the dogs had an endless stream of attention and the two rescue groups were able to gain exposure in the community for future adoption consideration and donations during the game. Pet owners who visit the Subaru display go home with a "Chewbaru Outbark" or a Subaru Pet Travel Kit. We have been keeping up with the two brothers who were adopted at the season's inaugural Bark in the Park event back in April: Doobie and Ray were both adopted by Cannon Ballers staff members and attend many games. We look forward to watching them grow. Doobie even has a title: Assistant Groundskeeper, in charge of fertilizer! The next Bark in the Park is August 10th, followed by August 24th and the final event on September 7th. On these nights, ticketholders are encouraged to bring their dogs to the game.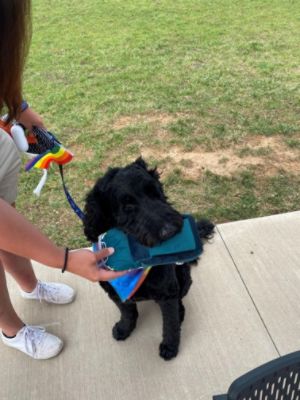 ---
Subaru Concord delivers! - Kimberly S
Subaru Concord in Concord, NC has been an integral partner with our Meals on Wheels program for over 12 years! During this time, they have delivered meals, held "stuff the Outback" events, assisted with our fundraising events, and, has made us their Hometown Charity during Subaru Share the Love. Subaru Concord has been here for our organization during the pandemis and volunteer shortages caused by the pandemic. They have assisted us with purchasing new vehicles so we can continue to feed all who need our service. We are extremely grateful for the partnership we have with Subaru Concord and look forward to many more years of serving!

---
Flutter By Earth Day Festival - Montana M
Subaru Concord celebrated all things 'Earth' in the month of April, in store and through participation in Concord Parks and Recreation's Flutter By Earth Day Festival. Flutter By Earth Day is Concord Parks and Recreation's earth day celebration where organizations come out and talk about what they do for the environment and community with crafts, resources, and other activities. Subaru Concord highlighted their Eco-Friendly Retailer status and offered tips on how this status was achieved and could be duplicated by other organizations in the community. The TerraCycle recycling partnership was demonstrated with a display showing how hard-to-recycle items could be diverted from landfills and turned in to useful items like park benches or picnic tables. In addition, pollinator seed packets were offered to event-goers to aid in increasing the pollinator population in the area. The seeds were sourced from an in-state farm to ensure the plant species were correct for the area's planting zone and weather conditions. The pollinator seed packet project was created in conjunction with a local chapter of the NC Wildlife Federation, Charlotte Wildlife Stewards. Literature was made available on how to establish a Certified Wildlife Habitat at home.
---
Blood Donors are Modern-Day Superheroes! - Amanda D
On April 13th, Subaru Concord hosted their second of five blood drives scheduled for 2022. We are thankful that Subaru owners and Subaru Concord team members continue to answer the call to provide life-saving blood donations to the local community blood bank. Thank you gifts for successful donors included a $20 eGift Card, a OneBlood tumbler and a $35 Subaru Concord gift certificate. Additionally, donors who gave during the February drive were eligible for a 'challenge gift': an additional $25 eGift Card. Subaru Concord has already exceeded their 'double red' units collected in all of 2021 and there are still three blood drives to go in 2022! A "double red" cell donation allows you to give twice the amount of red cells than a whole blood donation. Red blood cells are the most used blood component for surgery, trauma and treatment of blood disorders. You may donate double red cells once every 112 days. The next blood drive hosted by Subaru Concord is Wednesday, June 15th from 12:00 – 6:00 PM - Share your Super Power in 2022!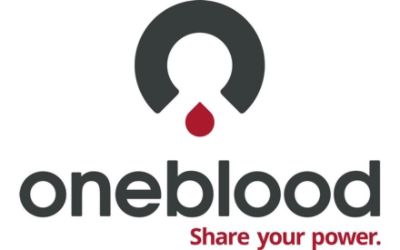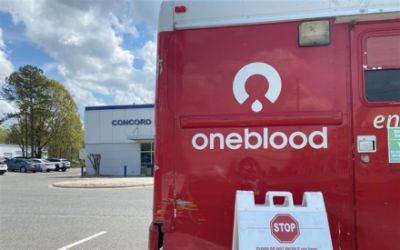 ---
First 2022 Bark in the Park a 'Hit'! - Whitney M
Subaru Concord returned as a sponsor for the Kannapolis Cannon Ballers' Bark in the Park. Leveraging past and current community partnerships provided a great experience for fans and community rescue partners alike. Participating in the first Bark in the Park of 2022 were The Humane Society of Concord and Greater Cabarrus County, The Cabarrus County Animal Shelter and Tails of the Unwanted. The organizations enjoyed meeting potential adopters, future fosters and supporters, as well as fundraising. The Humane Society and Tails of the Unwanted brought adoptable adult dogs and puppies for everyone to meet and The Cabarrus County Animal Shelter provided a much-needed community service by handing out literature with important pet owner information and checking microchips to provide pet owners with the necessary information to ensure their contact information is up to date – just in case they are ever separated. Subaru team members and Subaru Ambassador, Judith, volunteered to staff the Subaru display on what turned out to be a chilly, but beautiful Sunday at the ballpark. Three dogs were featured on the big screen and on the field during the game: Sapphire and Vin Diesel from The Humane Society and Deacon from Tails of the Unwanted. Each of these dogs has been in foster care at their respective rescues for much too long! Boomer, the Cannon Ballers mascot, as well as the 'Boom Crew' made sure that all of the dogs in attendance received plenty of attention. Judy Sims, Executive Director of The Humane Society of Concord and Greater Cabarrus County shared, "We really enjoyed it and have had several inquiries in some of the dogs we had out there. It was good for them to be out… We are looking forward to more events." As of this writing, there are two completed adoptions: Puppies Ray and Doobie have transitioned from their rescue group into their new homes. A Kannapolis Cannon Baller team member adopted Doobie – we look forward to watching him grow up at the ballpark during future Bark in the Park events!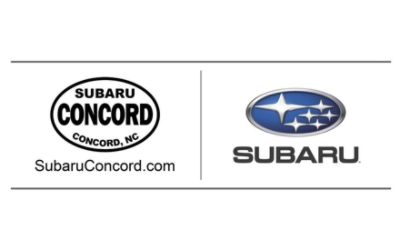 ---
Subaru Loves Learning with A.T. Allen Elementary - Melanie R
A.T. Allen Elementary School was Subaru Concord's Subaru Loves Learning partner school in the fall of 2021 and chosen to receive donations through non-profit AdoptAClassroom.org. A.T. Allen is a Title 1 school located in a rural part of Cabarrus County. From the feedback received through AdoptAClassroom.org from A.T. Allen's teachers, books for students to read at home to improve their reading skills is one of their most urgent needs. In addition to donations through AdoptAClassroom.org, Subaru Concord also wanted to help the school stock supplies from their individualized list of school supply needs and hosted a drive during the month of August. Subaru owners and team members were offered a service discount coupon for bringing in supplies on the list and the retailer purchased enough supplies in bulk to build 50 supply kits for students in need. A donation of 18 pairs of headphones was added to the school supplies to assist in computer-based learning. The staff of Subaru Concord gathered in the showroom and created the bags of supplies that were delivered near the start of the school year. Feedback from AdoptAClassrom arrived in early 2022: "Dear Subaru Concord, Thank you for your overwhelming generosity this past back-to-school season. Your commitment to equity in education is helping to close the achievement gap. Too many students arrive at school each day without the basic needs to learn, and it's their teachers who fill that void. Together with Subaru of America, Inc. and Subaru retailers nationwide, 100% of the donations to AdoptAClassroom.org went to support more than 133,000 K-12 students in high-needs schools across the country. Our team has already begun planning for Subaru Loves Learning 2022. We are committed to working with you to make the upcoming year even more impactful for students in need across the country, and looking forward to sharing all that's in store. On behalf of all of us at AdoptAClassroom.org, thank you again for your support."—Ann Pifer, Executive Director, AdoptAClassroom.org From Kelly Kivett, Kindergarten teacher, A. T. Allen Elementary School: "My classroom is filled with unique learners from all areas. We are a well diverse classroom and learn in all types of ways and styles. We are a family in my kindergarten class and we care about one another very much! We take pride in our learning, and always like to be challenged academically! Learning is the BEST! We need more diverse books, games, and learning activities on our level to widen our knowledge, skills, and mindset.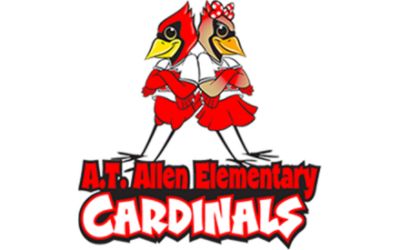 ---